---
Link to this week's interview show here, featuring Lee Shunburne, Xan Crees, Kate George, Tiffany Fletcher, James Swadling and Matt Crouch:  https://www.ndcxl.org.uk/2017/01/21/interview-show-from-season-finale-chetwynd-barracks-at-chilwell/
---
The season finale at Chetwynd barracks promoted by Fossa Racing, Full Speed events and Ashfield RC occurred under sunny skies and on a firm course. The fast conditions meant that most completed the race on a single bike and that bunches could stay together. Close racing ensued in all categories and at all positions through the field. Whilst most league winners were known before the start of racing, there was still unfinished business in the V50s and senior women's races where favourites needed to keep to form to bring home the league overall victories.
Youth racing was close throughout all categories. From the whistle Finn Mansfield (MI Racing Academy) took the lead in the U16s with an enormous attack up the starting hill and never lost it despite being pushed very hard, initially by Joseph Brooks (WNT) and then Ben Dowson (Hetton Hawks), with a final winning margin being less than 10s. The U14s saw a familiar battle unfold between Josh Giddings (MI Racing Academy) and Ben Chilton (Derby Mercury). Giddings was looking strong until he crashed at which point Chilton capitalised and took the lead to the finish. Another close battle unfolded behind with a repeat of teams – Derby's Kininmonth finished 3rd with MI Academy's Brough finishing a few seconds behind.
In the girls racing U16 Amo Waite (Empella) led from the start but was chased by leading U14 Lotta Mansfield (MI Racing Academy) who looked intent on being first girl over the line. U16 Maddie Hubner (Empella) put in a blistering second lap to take the lead. Behind, Mansfield briefly got ahead of Waite after a chain issue, but was unable to make it stick and Waite pushed hard to overhaul her team mate for a clear win. Mansfield chased to get within a few seconds of Hubner but came over the line 3rd and first U14. Lucy Buckley (Cycle Derby) was second U14 continuing to show impressive improvement throughout the season. Third places were filled by Ellie Dilks (U16, Cycle Derby) and Jessica Tiffney (U14, Derby Mercury).
In the veterans race visiting Army rider Graham Rogerson (V45) clearly felt at home on the Barracks winning with a margin of over 1 minutes. Jason Marriott (Army Race Team) also honoured the military site and followed his colleague over the line in second after being pushed by Rich Edge (Nottingham Clarion, V40) who kept ahead of a closing Andy Wainwright (Bolsover). All of the V40-49 NDCXL 'league' riders were caught and passed by Pete Middleton (Zepnat) completing his league title in impressive style. Second and almost 4 minutes behind was Chris Green (Matlock CC) and third V50 was another Zepnat foxcat, Sean Beswick.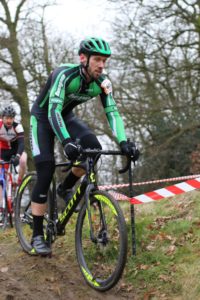 The final race of the day saw drama in several categories with shoulder-to-shoulder racing in several categories including Juniors and Women's. Junior and U23 riders were set off first with Kieren Brown and Ollie Snodden having a close race. Approaching the pits Brown went for an overtaking move into a narrow gap and ended up catching the tape and crashing hard. After composing himself he pushed on to win the U23s for Bolsover; Aaron Chambers-Smith also took the win in Juniors, a few minutes ahead of James Swadling (Nottingham Clarion) who has had his best season since being an U12. In the seniors category it initially looked as if previous NDCXL league champion Jono Harper (Argi+) was en route for another win but Dan Booth (Hope Factory Racing) made his move looking well under control, and went on to win for a second time at an NDCXL race this season. Third was Alan Duncan (Jakrabbit).
In the women's race there was no surprise to see the Empella trio of Kate George (Senior), Xan Crees (Jun) and Tiffany Fletcher (U23) leading up the first hill… and each eventually winning their categories (and leagues). Crees tried to stay with George but gradually lost touch finishing second woman overall. Off the start Helen Dussek sat back waiting until the woods before forcing her way through those ahead to win the V40F category and looking very strong until the end of the race after an impressive season showing great improvement since 15-16. Ruth Sutherland (Bolsover) was first V50F with Hilary Johnson (Empella) finishing close behind.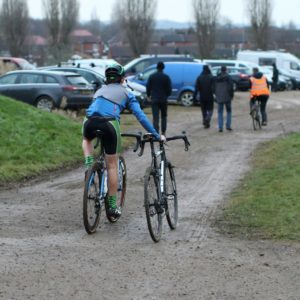 U12s report
The final race of the season saw another great field of riders on a chilly dry morning at Chilwell.
A tight, twisty and largely dry course greeted them certainly favouring strength and technical ability over flat speed.
Ben Marsh (Matlock CC) had his usual storming start chased by Otto Chilton and George Amor-Hughes (Derby Mercury RC) It was on the second lap That Otto made his move taking the lead and along with his teammate George left the field literally standing!
Ben Marsh had no answer to this pace and gradually slipped back finishing nearly a minute down with Otto taking his maiden victory of the season with George in 2nd The Girls were yet again joined by Libby Bell (Leicester Forest CC) who has been a regular visitor to the league this year and a regular winner.
As predicted Libby started very quickly and was holding 5th place overall with Harriet Limb (Matlock CC) and Flo Lissaman (Newark Castle CC) tucked in behind.
A fall on the bank by Libby and a slow remount resulted in a storming Flo taking the girl's lead with Harriet just behind in 2nd and Libby fighting to get back in touch.
Flo continued to turn the screw at the front overtaking most of the leading boys to take a fine win and 6th overall with Libby in 2nd place and 11th overall and Harriet back in 3rd and 14th overall.
Dominic Limb
U9s report
48 enthusiastic (if a little chilly) U9 riders graced the start line to get proceedings under way at the final NDCXL round at Chetwynd Barracks today.
A wide, uphill start meant lots of riders per row but the gridding saw a controlled line up of focused little riders eyeballing the course that awaited them, a course that was everything you'd want at this level, with typical cyclocross features that tested all abilities and rewarded the most confident.
From the whistle new U9 League Champion George Cooper (Bolsover & District CC) was on a mission to not get involved in a race long battle with his usual rival and clubmate, Jacob Steed, putting the hammer down from the first pedal stroke at the whistle. All the damage was done in a blisteringly quick first couple of laps from which point he was able to control the gap and pick his line through lapped riders to take the chequered flag by 29 seconds. A broken chain late on the last lap saw Steed courageously running to the finish with his bike, his efforts in chasing Cooper ensured he had a big enough gap to keep 2nd place.
Behind the lead pair, Dillon Preece (Bolsover & District CC) made an attack up the hill on early runner Daniel Ward (Mercia CC) and built a gap from there to take the last podium place, eventually finishing 13s ahead of Fraser Cummings (Buxton CC/Sett Valley Cycles) who managed to also get past Ward.
Edie Bott (4 Life Triathlon Club) dominated the girls category, finishing 1st girl and 12th overall, lapping consistently quicker than her rivals Lottie Lissaman (2nd girl and 19th overall, Newark Castle CC) and Eleanor Gordon (3rd girl and 23rd overall, Matlock CC) to seal the League Title.
Tim Cooper