Thanks to the team from B&DCC for giving us another super race at Hardwick, and for organising weather meaning that there was simply no tyre choice that was ideal for the entire course.  Some opted for something more grippy but complained of lack of straighline speed… others went for the less agressive treads but struggled for grip.
The youth race saw British Cycling ODA MTB rider Alec Gregory riding for his new team, Pedal Power Loughborough, and easing away from the field with no-one able to challenge.  Further behind there was more position jostling with the Derby Mercury duo Ben Chilton and Joseph Kininmonth finishing 2 and 3.  Chris Hilbert from Sherwood Pines overtook most of the field to finish 1st U14 and in the top 10 over the line.  2nd was Sully Berry from Reddich finishing just a few seconds ahead of 3rd placed William Longden (Matlock CC).
In the girls the MI Racing Academy duo of Amo Waite and Lotta Mansfield charged off the front but only stayed together for a lap, when Lotta crashed and fell back sporting a bleeding thigh for the rest of the race but finishing second to Amo.  3rd and 4th was also filled with a team-mate pairing of Ellie Dilks and Lucy Buckley from Cycle Derby which came down to a sprint for the final podium place.  Libby Bell from Leicester Forest just managed to finish ahead of Heanor's Holly Bailey in the U14 girls, despite keeping in sight for the whole race.  Annabel Parker (Matlock) finished 3rd.
In the Veterans race there were a few incidents in the first half lap with riders coming together, but there was no surprise to see last year's Seniors winner Lee Shunburne (Fossa) soon disappear out of sight to take the win by over a minute.  A closer race developed for 2nd (and 3rd) between James Thompson (SCOTT) and Derby Mercury's Nathan Miller.  Matt Crouch finished first in the V45s, also from Fossa Racing.   The V50s winner, Pete Middleton rode through most of the Vet field with Kirby Bennet (V55) finishing 2nd for Jewson MI Racing, and Nigel Gregory finishing 3rd.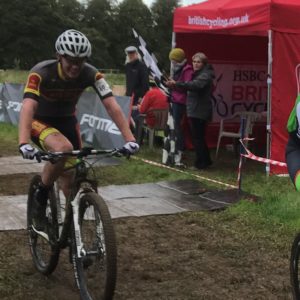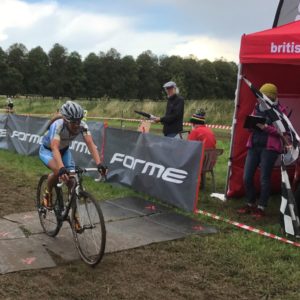 As usual the final race of the day comprised Senior and Junior men, in addition to all of the women's categories.  Dave Fletcher (Sherwood Pines) showed his excellent form being unchallenged all race to finish first by well over a minute from newlywed Ben Eedy (Empella).  Jeremy Hicks was 3rd Senior… however it was all a bit more complicated with the Juniors and U23s mixing it up, where Matt Ellis was second over the line and an impressive Tim Elsmore-Martin (Fossa) showed outstanding form to finish 4th over the line and second Junior.  Nottingham Clarion's Elliot Bannister was 3rd Junior, finishing just behind first U23 Kieren Brown (Argi+ 8Point8 Winter).  The two Marriots finished 2nd and 3rd U23, with Sam (Argi+ 8Point8 Winter) finishing ahead of his brother Matthew (Army Cycling Union).
The women's race was won by newlywed Kate Eedy (Empella) who was also first of the vet women.  Vet National Champ, Maddi Smith (B&DCC) finished 2nd and just ahead of Poppy Wildman (SF Racing), riding her first CX race as a Junior.   Jules Toon finished first Senior woman just behind Poppy, making good use of her MTB.  The Empella trio of Tiffany Fletcher (1st U23), Xan Crees and World Veteran Champion Tracy Fletcher kept together for much of the race and came over the line close, although Tracy slightly off the back.
It was great to see how many new riders were racing today amongst the friends and rivals who have been racing together for years.
U9s and U12s race report.
Under 9's
A healthy field of 50 riders lined up in the under 9's category to open proceedings at a wet and slippy Hardwick Hall on Saturday.
Visiting rider Jonah Hearn (Lichfield City CC) stormed through on the opening lap from the back of the grid and was leading as they exited the woods closely followed by Alfie Steed and Louis Inman (Bolsover and DCC). The first three were to battle it out over the 4 laps out with only Jet Du Toit (Newark Castle CC) looking a threat to the podium placings.
After a couple of slips from the chasing duo in the treacherous corners Jonah was able to get a clear gap and soloed to victory followed by Alfie in 2nd and Louis in 3rd.
In the girls race Merle Snelson (Team Milton Keynes) snatched the victory, again from the back of the grid. Lottie Lissaman (Newark Castle CC) finished in 2nd 30 seconds back followed in 3rd by Isla Woolf (Matlock CC)
Under 12's
58 riders made the start line in the Under 12's many of whom were making their debut at this age group and starting way back on the grid.
Impressively It was from 26th position on the grid that last years Under 9 league winner George Cooper (Pines Cycles Enve) with his main adversary Jacob Steed (Bolsover and DCC) 27th on the grid charged to the front of the race before the end of the first lap!
These two traded blows throughout the race with George taking the win by 20 seconds over Jacob and Jude Du Toit (Newark Castle CC) finishing strongly to claim 3rd a further 12 seconds back .
In the girls race Grace Longden (Matlock CC) dominated proceedings winning by over a minute and a half and finishing 7th overall.
Team mates Evangeline Kininmonth (Derby Mercury RC) finished in 2nd and 17th overall with Lara Husselbee 3rd and 33rd overall