The conditions today were very different from last week's round at Hardwick, with a fast, flowing, hilly, dry course. A course where full gas was required from start to finish, plus handling skills to tackle the single track rooty fun (for some) in the second woods, and the drop-offs on which there were reports of crashes during practice.  A new fast wooded section was the only respite on the energy sapping circuit.
In the U16 boys race, Jenson Young (Pedalsport Cycling Club) led from the gun, with Alec Gregory of Leicester Road Club hot on his wheels. The Pedalsport rider took the win, staying ahead throughout and finishing 10s ahead of Alec Gregory in second. Meanwhile a tussle for the final podium spot was taking place between Tim Elsmore-Martin of Fossa Racing and Finn Mansfield of The MI Racing Academy. Finn took the early lead, but a well paced race by Tim saw him reel in his rival. The pair then exchanged blows for a couple of laps, however in the final lap the Fossa Rider pulled away when Finn dropped his chain in the final wooded section, finishing about 20s ahead to take third.
In the U14 boys race a battle took place between Joshua Giddings of The MI Academy and long term rival Ben Chilton of Derby Mercury, the pair were together for half the race, however Josh Giddings proved too strong in the end and pulled away over the last two laps to take the win by over half a minute. Third spot went to Bryn Richards of Bourne Wheelers CC, who was a further 30s back and over a minute behind the race winner.
In the U16 girls race, Amelie Wayte looked in fine form, riding in her new team colours with Team Empella Cyclo-Cross-Cross, she led from the start and extended her lead throughout the race, finishing half a minute ahead of Sarah Briggs (Matlock CC), her usual sparring partner, to take her first U16 victory. Madeleine Hubner (Team Empella Cyclo-Cross ) took third.
Lotta Mansfield (The MI Racing Academy), totally dominated the U14 girls race, finishing 3 minutes ahead of Emily Richards (Bourne Wheelers) and second girl overall, outsprinting Sarah Briggs (2nd U16) on the line. Third spot went to Annabel Parker of Matlock CC.
Next up was the Vet men's race, as always the biggest field of the day. In the vet 40s newcomer to the category, Matt Barrett of Renvale RT took the win over Jim Bryan of Zepnat RT. Jim Bryan was, however first in the vet 45 subcategory. Third place went to fellow Zepnat rider Dan Alexander, who managed to keep his bike in one piece this week after last week's double helping of bad luck.
The Vet 50 race was dominated by Pete Middleton of Zepnat RT, who led from the start and finished a couple of minutes ahead of second placed rider Mick Davis of Pedal Power Loughborough, (who was the vet 55 winner). Third spot went to Nigel Gregory of Leicester Road Club, only 6s behind the Loughborough rider.
The final race of the day had a number of categories racing at the same time.
In the senior race, Thomas Stewart of Madison Genesis made a guest appearance fresh from the Tour of Britain where he was one of the four in the break in the final stage.  Clearly on form, he rode an outstanding race to finish well ahead of second placed Lee Shunburne (Fossa Racing), even though Tom rolled a tyre and lost some time (make sure that you listen to the interviews!).  Third place was taken by Mark Cotton after a good battle with the Fossa rider.
Interviews with top two riders – click here!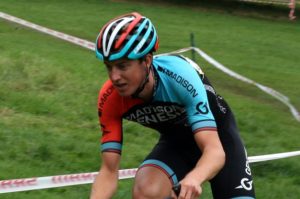 In the men's U23 category Josh Waters (Mercia CC) took first place, 30s ahead of Bolsover's Kieren Brown. Stefan Partridge (University of Sheffield CC) took the third podium spot.
In the junior men's race Matt Ellis (Steve Poole plant hire/Raleigh) took the win, with Tom Dussek (Nottingham Clarion), coming second and Simeon Young (Pedalsport Cycling Club) completing the podium in third.
There was a large field in the women's race today, Di Lee of Cannondale Girls, once again stamped her authority on the race from the off, finishing a minute and a half ahead of Team Empella Cyclo-Cross rider Kate George. Third woman over the line today was vet 40 winner and National Champ, Maddi Smith of Bolsover.
Third in the senior race, in only her second outing on a cross bike was Cheryl Vaughan of Matlock CC.
In the U23 women, Tiffany Fletcher (Team Empella Cyclo-Cross ) beat Clem Bird of Nottingham Clarion.
The battle for first in the junior women's race was a close fought affair, with Maddie Gammons (RP Vision Racing Team) taking an early lead over Xan Crees (Team Empella Cyclo-Cross) and she looked as if she would hold the lead until a crash in lap 5 put her behind. She then had to chase the Empella rider but didn't quite catch her on the line. Third in the junior girls was Joni Wildman of Nottingham Clarion.
With Maddie Smith winning the vet 40 women and finishing third overall, second and third in this age category went to Helen Dussek of Nottingham Clarion and Jane Roberts (Sherwood Pines Cycles Felt).
The vet 50 race was convincingly won by Tracey Fletcher (Team Empella Cyclo-Cross ), with an overall 6th place finish. Second and third in the vet 50 women were Ruth Sutherland (Bolsover and District Cycle Club) and Karen Lifford (UDCC).
Finally, first v60 woman was Hiliary Johnson from Team Empella Cyclo-Cross, a team looking back to full strength with an excellent turn out at Alfreton.
Under 9s
With 71 riders gracing the start line in the under 9's on a very fast and twisty course a quick get away was crucial.  It was Jacob Steed (Bolsover and District CC) who shot off up the hill and managed to stay upright this week to forge a commanding lead which he maintained throughout the race. Our winner from Round 1 George Cooper (Bolsover and District CC) fought hard after getting caught up at the start to chase down his teammate but ran out of time finishing a fine 2nd with Samuel Syms nearly a minute back in 3rd.
It was great to see 18 girls amongst the starters this week with Edie Bott leading the charge finishing 23rd overall and 1st girl .Ruby Isaac came in 2 places behind Edie to finish 2nd girl with Eleanor Gordon (Matlock CC) a further 30 seconds back in 29th to mirror her 3rd place from the Round 1.
Under 12s
Another great field of 74 including 20 girls battled it out around Alfreton Park with some astonishingly quick laps. In contrast to Round 1 most riders managed to avoid crashing on this mud free super fast course.  Ben Marsh (Heanor Clarion CC) triumphed yet again but had to press very hard to fight off the challenges of Oliver Beeden (Chinley Churners CC) and Otto Chilton (Derby Mercury RC) who finished 2nd and 3rd respectively with only 5 seconds separating them at the line.  The top 3 girls had a similar battle and contained the same riders as Round 1 at Hardwick. The lead changed hands several times over the 6 laps with Flo Lissaman (Newark Castle CC) coming out on top in 9th overall. Harriet Limb (Matlock CC) was 2nd girl yet again and 12th overall with last week's winner Libby Bell (Leicester Forest CC) a further 20 seconds back in 18th overall and 3rd girl.
Maz and Dominic